Publication: "Op de bres voor de rechtsstaat in het verzet en bij de BVD"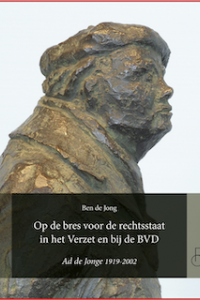 We proudly present Dr Ben de Jong's newest publication "Op de bres voor de rechtsstaat in het verzet en bij de BVD: Ad de Jonge, 1919 – 2002". This book is part memoir, part biography and an addition to the historiography of Dutch intelligence and security services. Ad de Jonge was an important figure in the Cold War history of the Dutch security service Binnenlandse Veiligheidsdienst (BVD) where he worked in 1952-1979. He got involved in the Dutch National Resistance in 1940, for which he got arrested in 1941. After having been in multiple prisons and concentration camps and the end of the Second World War, he was employed by the Dutch National Security Service (Binnenlandse Veiligheidsdienst, BVD). He became chair of the department that was sketching an image of the Dutch Communist Party (Communistische Partij Nederland, CPN). Similar to his work in the resistance, for Ad de Jonge the defence of democracy was central.
The book is based to a large extent on wide-ranging interviews with him that took place in 1997-2001. Substantial archive material and interviews with former colleagues were also used by the author. Extensive comments were added that clarify statements by Ad de Jonge.
The book can be found in the bookstore, for example here.
Next Thursday January 14, Dr Ben de Jong will be giving an online lecture on Double Agents in the Cold War together with Dr Eleni Braat.
---
Back