New Title: The Transatlantic Era (1989–2020) in Documents and Speeches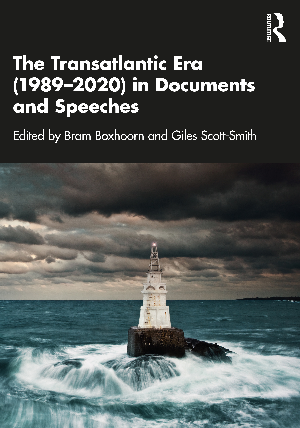 One of our coordinators, Giles Scott-Smith, would like to share his latest work!
This accessible textbook uses key documents embedded in a clear narrative to chart the post-Cold War rise and decline of transatlantic relations. It provides a novel interpretive framework by proposing that the three decades between 1989 and 2020 represent a distinct 'transatlantic era'.
Providing a unique new look at the recent history and politics of transatlantic relations, the book argues that three key phases can be identified:
1989–1999: victory?
2000–2010: divergence?
2011–2020: disarray?
Each period defines a particular set of political, economic, and security dynamics, with the trend being a gradual undermining of the strengths on which transatlantic unity once relied. These three decades therefore represent both the high point of the transatlantic region's power and potential, and its gradual decline in a global context. Presenting students with a critical perspective of US and European transatlantic policies through annotated key documents covering central aspects of security, political, economic, and cultural affairs, it will be essential reading on all International Relations courses as well as of great interest to scholars and students of US and European Studies, Foreign Policy, and Security Studies.
---
Back