Book Launch: Freedom on the Offensive by William Michael Schmidli
8 December 2022
16:00 - 18:00
Bushuis/Oost-Indisch Huis, room E 1.02, Amsterdam
This December the Cold War Research Network is delighted to invite you to the presentation of William Michael Schmidli's new book Freedom on the Offensive: Human Rights, Democracy Promotion, and US interventionism in the Late Cold War (Cornell University Press, September 2022).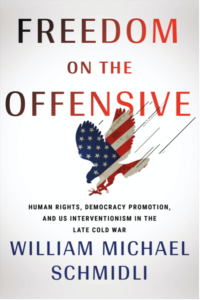 The book argues that democracy promotion by the Reagan administration was used to 'refashion the bipartisan Cold War consensus' which had disintegrated in the late 1960s due to opposition to the Vietnam War. Schmidli sheds new light on how democracy promotion was a key component of American's human rights agenda and foreign relations in the late 20th century.
William Michael Schmidli is an assistant professor in U.S. foreign relations at Leiden University. His first book The Fate of Freedom Elsewhere: Human Rights and U.S. Cold War Policy toward Argentina (Cornell University Press, 2013) was listed as Foreign Affairs Magazine Best Book of the Year.
---
Back