Book Launch: The Ideological Scramble for Africa: How the Pursuit of Anticolonial Modernity Shaped a Postcolonial Order, 1945–1966
19 April 2023
17:00 - 20:00
Utrecht University, Drift 21, Room 0.05 (Sweelinckzaal)
The Cold War Research Network is proud to co-sponsor the book launch of Dr. Frank Gerits, titled The Ideological Scramble for Africa: How the Pursuit of Anticolonial Modernity Shaped a Postcolonial Order, 1945–1966 (Cornell University Press, March 2023).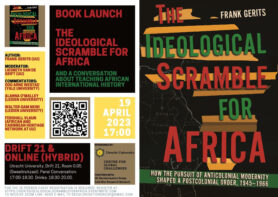 In his latest publication, Frank Gerits examines how African leaders in the 1950s and 1960s crafted an anticolonial modernization project. The Ideological Scramble for Africa demonstrates that the Cold War struggle between capitalism and Communism was only one of two ideological struggles that picked up speed after 1945; the battle between liberation and imperialism proved to be more enduring.
Frank Gerits is an Assistant Professor in History of International Relations at Utrecht University, the Netherlands, a Research Fellow of the International Studies Group at the University of the Free State in Bloemfontein, South Africa  and an external fellow at Shanghai University. In 2020, Frank Gerits published as a co-editor the book Visions of African Unity: New Perspectives on the History of Pan-Africanism and African Unification Projects.
To participate in this event registration is required.
For in-person attendance, register at: https://www.eventbrite.com/e/book-launch-ideological-scramble-for-africa-tickets-535622460197
For online participation, please send an email to this address <decolonisationgroup@gmail.com>  in order to receive a zoom-link.
---
Back