Book Launch: Telling America's Story to the World: Literature, Internationalism, Cultural Diplomacy
6 October 2023
16:30 - 17:30
Online (Zoom link will be provided upon registration)
The Cold War Research Network is proud to co-sponsor, together with the Roosevelt Institute for American Studies (RIAS), the book launch of Dr. Harilaos (Harry) Stecopoulos titled  Telling America's Story to the World: Literature, Internationalism, Cultural Diplomacy (Oxford University Press, November 2022).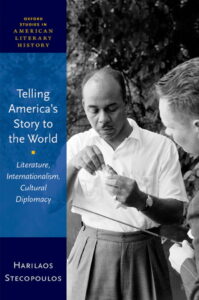 In his latest publication, Dr. Stecopoulos draws on an extensive archival and historical research and formulates the first study  to demonstrate that US cultural diplomacy played an important role in the making of postwar US literature. He highlights the role of liberal internationalism in US cultural outreach and contends that the state mainly sent authors like Ralph Ellison and Robert Frost overseas not just to demonstrate the achievements of US civilization but also to broadcast an American commitment to international cross-cultural connection.
Furthemore, we are happy to announce that CWRN's own, Dr.Giles Scott-Smith, will be participating in the event as a commentator and a discussant.
Harilaos Stecopoulos is a Professor of English at the University of Iowa. He teaches courses on modern US literature, African American literature, transnational American Studies, the energy humanities, and creative writing. In addition to Telling America's Story to the World: Literature, Internationalism, Cultural Diplomacy  (Oxford, 2022), his publications include Reconstructing the World: Southern Fictions and US Imperialisms, 1898-1976  (Cornell, 2008), and the edited collection A History of the Literature of the U.S. South  (Cambridge, 2021). He is currently working on two book projects: "A Keen Sense of Power: Richard Wright, Energy, and the Violence of Extraction" and "Entangled Words: Diplomacy and the Making of American Literature."
For more information on this Book Presentation, please follow this link for the RIAS's own announcement, and do not hesitate to download its invitation.
To participate in this Book Presentation event registration is required.
Follow this link to complete your registration.
---
Back